When a new model comes out or there's a redesign we can look forward to a ride and drive event from Toyota. For the all-new 2019 RAV4 AWD we recently had two. One RAV4 AWD ride and drive was when there was still snow and mud around, and there was plenty of mud on my drive. And the second was in the all-new RAV4 AWD Hybrid.
The first event took place in mid-March at NH Motor Speedway in Loudon. It was still winter and almost all of the roads in and around the track property remained unplowed which looked very good for this test drive. Weather for the week was typical New England weather. Snow for a day, then sunshine and warmth. Several of the Sales Consultants from Toyota of Portsmouth attended early in the week and found out how amazing the All Wheel Drive system in the new RAV4 handled in snow. One night before their drive there was a six inch snowfall. They were like skiers in fresh new powder. Later in the week we had a warm spell and sunshine. I was worried I would not have any snow to drive in when I was scheduled, but the truth is I had the best of both worlds….mud and Snow. More on the mud and snow later.
Our first test drive compared the all-new RAV4 against its competitors. Honda CRV, Subaru Outback and Nissan Rogue. We had the opportunity to drive each back to back with the RAV4 AWD and come up with our own opinions. As we ventured out we did several laps around the perimeter of the track on pavement. This wasn't your Sunday go to church drive. Our lead driver from Toyota made sure we hit our limits doing speeds near 70 mph on roads that curved and had more bumps than you can imagine. The racetrack would have been much easier. This drive was all about handling and the RAV4 AWD was much easier than the other brands.
The outcome? Toyota made its point about the new RAV4 going head to head with its rivals. Without getting into too many specifics on each competitor here's my opinion. I found the seats were very uncomfortable in the Honda CRV and it lacked a quality feel that I had expected to find. The Subaru Outback and Nissan Rogue lacked engine power at take-off and while driving. When you wanted it, it just wasn't there. Entertainment screens lacked in size and ease of use especially in the Subaru. Handling was also weak on the Honda and Subaru compared to the RAV4. I don't just say this because I work selling Toyotas, it was very noticeable. There were many other differences, but these were the most notable that I could see.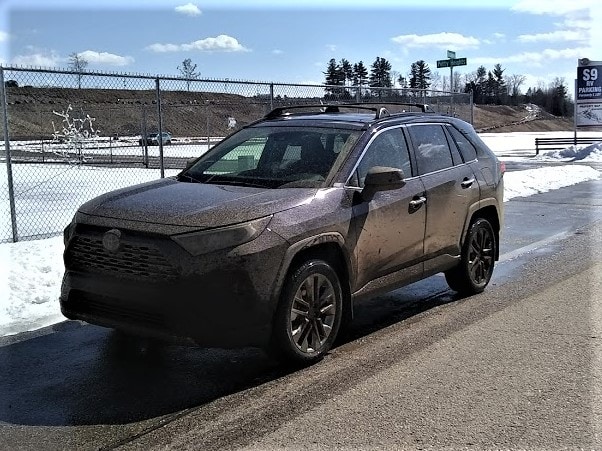 In the next event, mud and snow, we did not drive the competition's vehicles and now I know why. There's a chance they would not have met the demands we were going to experience.
The mud and snow course took us into the parking areas around NH Motor Speedway and up and down several hills all while driving through mud and snow. To start we encountered a very muddy uphill trail. I've owned 4WD pickups and Jeeps. I went there thinking there's no way this RAV4 will get up this terrain. That thought was shot down. Toyota's new RAV4 AWD system is built around what they call Torque Vectoring. It behaves like four wheel drive. The mud was no match for this new system. No one on the on the course that I talked with mentioned any slipping, sliding, or feeling like they might get stuck that day. I was amazed at the handling and power this new RAV4 AWD had. In snow depths nearing one foot of heavy wet snow we plowed right through, again without feeling we had to fight to keep the RAV4 on track.
After the two drives we spent time in the classroom learning about the RAV4 AWD and its competitors. Granted, Toyota representatives were in charge here, but the facts they laid out showed the extra value that Toyota has built into this all-new RAV4 AWD. Toyota Safety Sense leads the way. Others may have had one or two of the safety features Toyota includes and some manufacturers make you pay more to get to what Toyota puts in as standard. Do your homework on each level of features and you'll find for your money Toyota is the brand with the most value.
Our second ride and drive hit the streets on Andover, MA in the all new RAV4 AWD Hybrid. One word, "impressive"! The power and speed of the power plant is well above that of any competitor. The handling was remarkable on some tough streets. Potholes, twists and turns, braking, acceleration…this new RAV4 AWD Hybrid will get you there with power and handling that makes the drive easy. Plus with all the safety features built in you have peace of mind in any situation on the road. And we encountered a few that day.
There are so many details I have not gotten into here, but I suggest you make the comparison yourself before you buy. Take the test drives of each of the vehicles mentioned here; look at available and standard safety features offered, power, handling, and what you really get for your money. When you're done I think you'll see why RAV4 will continue to be the best selling SUV. (Business Insider 7/11/18)
RAV4 AWD in Loudon In the video you'll see some of the mud terrain we encountered along with obstacles set up including logs and a pit that lifted the passenger rear end almost two feet off the ground. Even with that lift the RAV4 AWD handled very smooth and without any effort. On the snow part of the course the RAV4 AWD performed like any 4WD I've ever driven. In fact, it outperformed the Jeep Compass I owned.
Check out the all-new 2019 RAV4 AWD and Hybrid models. You may not encounter what we did, but if you find yourself in a situation where you need traction and stability this new RAV4 will get you through safely and confidently.