Portsmouth High School student Aaron White has been involved with the high school's automotive curriculum for the past three years. In that time he has excelled in every aspect of automotive repair.
In December at the National Automotive Technician New Hampshire State Competition his team took first place in hands on testing and second place in the written test. Aaron won a 5k scholarship from Community College System of New Hampshire and $1000 from NH Automobile Dealers Association.
In April Aaron and teammate Sheamus Powers from Portsmouth High School placed seventh at the National Automotive Technology Competition held at the New York Auto Show.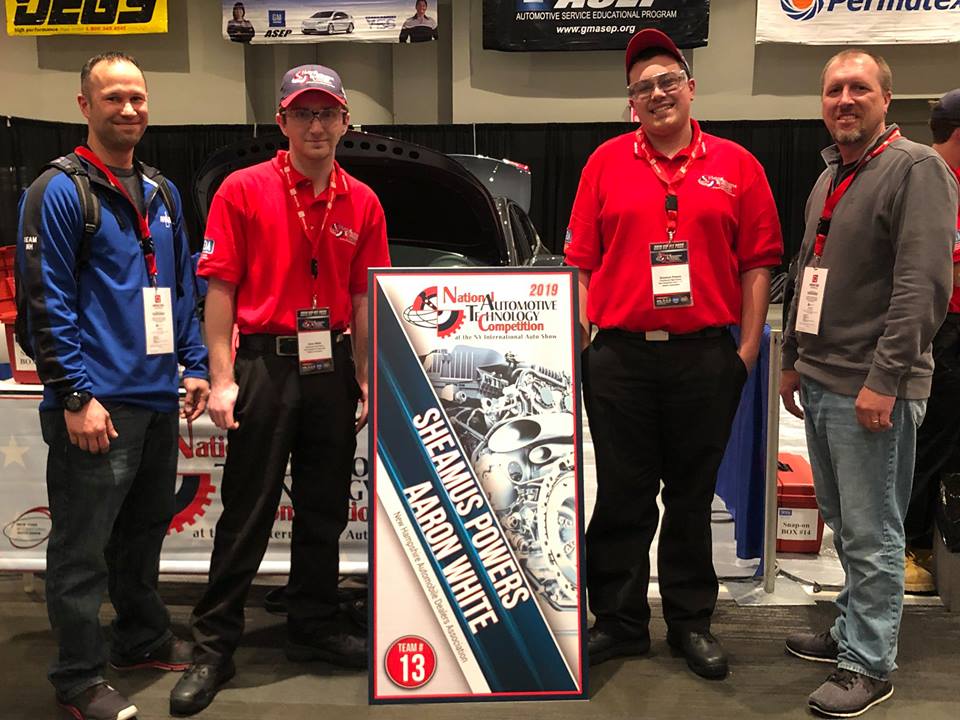 Aaron and teammate Sheamus Powers at the New York National Automotive Technology Competition.
Aaron has also been competing at an individual level with Skills USA. This includes being a part of the Lakes Region Community College state competition. Aaron has been involved with Toyota's T-Ten automotive technician-training program and he has spent several months in on the job training with the Toyota of Portsmouth service team.
Toyota of Portsmouth Dealer Principal Jim Boyle stated that "Auto dealers are struggling to find good technicians who can work their way up to solid positions earning $100,000 per year or more. There's a need for young men and women like Aaron. We've been very pleased with Aaron's performance."
Toyota of Portsmouth's commitment to helping students grow in their automotive career choice has included Aaron's work at the Toyota of Portsmouth and Jim Boyle will sponsor his trip to the Skills USA Championships in Kentucky in June.
During the championships they will demonstrate their ability to perform jobs and skills based on the task list outlined by the National Institute for Automotive Service Excellence (ASE) and the National Automotive Technicians Education Foundation (NATEF). They will also judged on technical competency, accuracy, quality, safety and ability to follow directions. There are 13 skill stations including the written test.

We wish Aaron the best in the competition and his career.