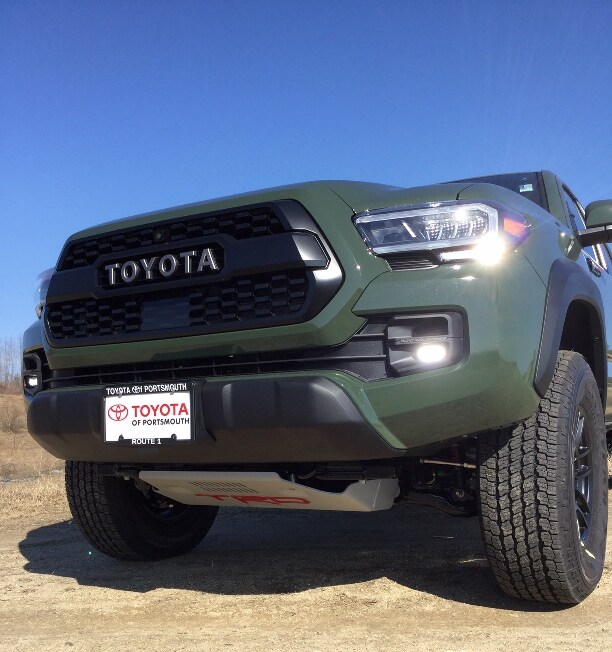 The Toyota Tacoma vs The Honda Ridgeline
Toyota Tacoma Fuel Economy vs Honda Ridgeline Fuel Economy
While the Honda Ridgeline might offer a bit more power through its V6 engine, the standard four-cylinder model of the new Toyota Tacoma provides optimal fuel economy in the city. The Tacoma can travel up to 422 miles in the city before requiring a refueling, whereas the Honda Ridgeline falls short, traveling up to 371 miles in the city before needing gas. The Tacoma also presents the more lightweight option, making it more fuel-savvy in the long-run.
Toyota Tacoma Size vs Honda Ridgeline Size
The Tacoma comes available with a crew cab or access cab. The Ridgeline offers only one configuration, crew cab, yet its front and second-row legroom both fall short of the standard crew cab of the Tacoma. Likewise, even as an Access Cab model, the Tacoma stands as the larger of the two pickup truck, with a much higher ground clearance of 9.4 inches, over the 7.3 inches the Ridgeline sits over the ground.
Toyota Tacoma Capability vs Honda Ridgeline Capability
Through its available V6 engine and Class-IV towing hitch, the Toyota Tacoma can tow up to 6,400 lbs., with a 3,500 lb. towing capacity through its standard I4 engine. The Honda Ridgeline, by contrast, only comes available with one engine. With two-wheel drive, this truck from Honda can tow 3,500 lbs., but with all-wheel drive, the Ridgeline falls short with a towing capacity of 5,000 lbs.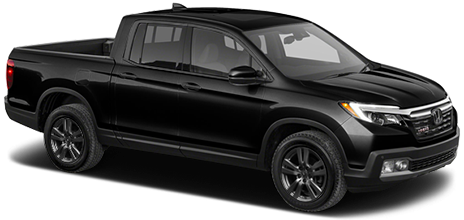 Toyota Tacoma vs. Chevrolet Colorado
Toyota Tacoma Performance vs Chevy Colorado Performance
While the standard inline four-cylinder (I4) engine of the Chevy Colorado offers slightly more horsepower, it falls short in terms of payload. Through its I4 engine, the Chevy Colorado can carry up to 1,435 lbs., whereas, the standard I4 engine of the Toyota Tacoma provides this pickup with a carrying payload of up to 1,685 lbs. The Tacoma also sits at a higher ground clearance of 9.4 inches off the ground, which offers drivers a better line of sight on their surroundings and prevents the undercarriage from accumulating damage when traveling off-road. The Colorado offers a lower ground clearance of 8.4 inches.
Toyota Tacoma Safety vs Chevy Colorado Safety
The new Toyota Tacoma comes standard with Toyota Safety Sense™ P (TSS-P) driver-assistive features, which help to monitor your surroundings using sensors and can deploy countermeasures accordingly. Standard TSS-P features include Lane Departure Alert (LDA), Automatic High Beams (AHB), and Dynamic Radar Cruise Control. The Colorado offers comparable features, but only on select trim levels for a higher fee.
Toyota Tacoma Entertainment vs Chevy Colorado Entertainment
The standard infotainment systems of the Chevy Colorado and Toyota Tacoma both offer compatibility with Apple CarPlay®/Android Auto™ to help you access your favorite smartphone applications. However, once again, the Tacoma goes a step further, offering hands-free capabilities through Amazon Alexa as well as Safety Connect® and a trial subscription to SiriusXM® Satellite Radio. Shoppers can only find comparable features on higher trims of the Chevy Colorado.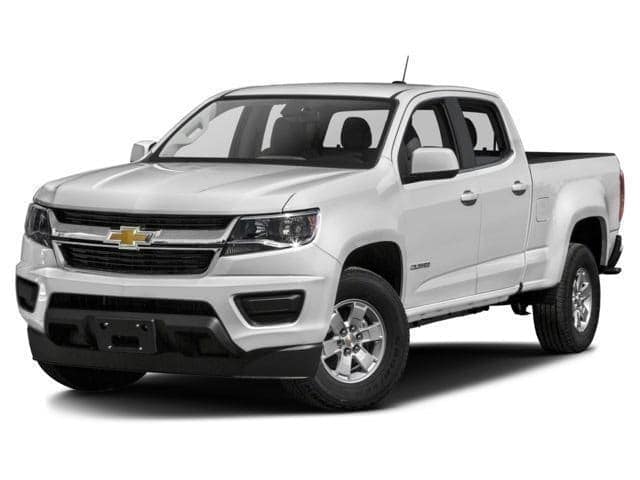 Toyota Tacoma Safety vs GMC Canyon Safety
As with the Chevy Colorado, this competitor from General Motors falls short when it comes to standard safety features, with driver-assist apps similar to Toyota Safety Sense™ only available on higher trim levels. Meanwhile, all trim levels of the Toyota Tacoma feature TSS-P features, including Dynamic Radar Cruise Control (DRCC), the Pre-Collision System with Pedestrian Detection (PCS w/ PD), and Lane Departure Alert (LDA).
Toyota Tacoma Capability vs GMC Canyon Capability
People generally do not associate GMC models like the Canyon with fuel economy, and this truck stands as no exception, with a city cruising range of 420 miles before refueling. The Toyota Tacoma provides a total cruising range of 422 city miles and sits at a higher ground clearance to make for easier off-roading. As a bonus, for those who can drive stick, the Tacoma comes available with a six-speed manual transmission, a feature wholly unavailable on the GMC Canyon.
Toyota Tacoma Drivetrain vs GMC Canyon Drivetrain
Much like the previous models like the Chevy Colorado, and Honda Ridgeline both come available with both types of drivetrains. However, the GMC Canyon only offers a four-wheel-drive system on select trim levels, without including it as a potion on the base. No matter which trims of the Toyota Tacoma you choose, you will find it comes available with front-wheel drive or 4WDemand four-wheel drive.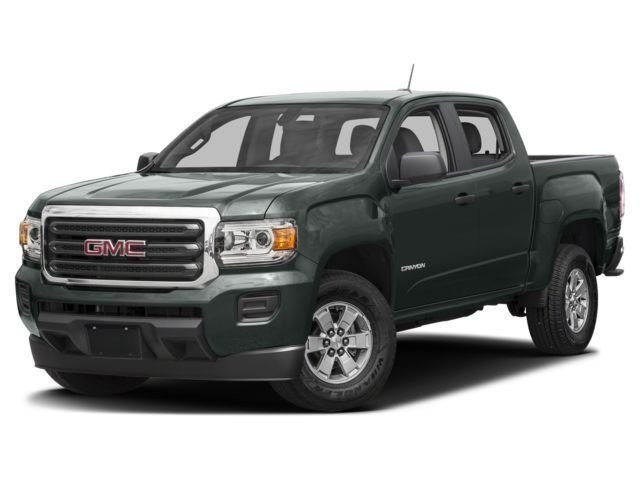 The Toyota Tacoma vs The Ford Ranger
Toyota Tacoma Safety vs. Ford Ranger
When it comes to any Toyota model, the Toyota Safety Sense package can put it over the top of any of its competitors in Portsmouth, NH. It is no different when matched up against the new Ford Ranger. The Safety Sense P system brings you a complete host of standard driver-assist features. Only one of which, the base Ranger includes. All other safety features, you have to pay extra for on the Ranger, including adaptive cruise control, Lane Departure Warning, and pedestrian warning. It is tough to keep up with Toyota's standard for safety, and the Ford Ranger falls well short of that goal.
Toyota Tacoma Interior vs. Ford Ranger
Traveling from Exeter, NH to Dover, NH can take a toll. You want a cabin that can keep you comfortable and connected. The Toyota Tacoma accomplishes both with a first-class cabin and advanced technology, waiting for you to discover. Both trucks can seat up to five people. But the cabin of the Tacoma is what sets it apart. You'll find it comes decorated with upscale materials. The Ford Ranger, despite making a return after a lengthy vacation, still feels old and outdated on the inside. When strictly comparing technology, the Toyota Tacoma gets another notch in its belt with its standard seven-inch infotainment touchscreen bringing you your Apple and Android device directly to you with vivid clarity. The Ranger generously lets you upgrade to a 4.2-inch screen for its SYNC connectivity system. When you really want to shell out some cash, you can actually get access to smartphone integration technology. The Ranger is about as barebones as you can imagine a truck being.
Toyota Tacoma Powertrain vs. Ford Ranger
You want your truck to handle whatever the road brings you on your drive through Hampton, NH. That is why the Tacoma has an available Atkinson-Cycle 3.5-liter 278-horsepower V6 Direct-Injection engine. Yes, it may be the upgrade from the base engine, but that is more power than the Ford Ranger provides in its sole engine option. Besides the sheer power variety provided by the Tacoma, you can also select the six-speed automatic transmission or get involved in your drive with an energetic six-speed manual transmission. Either way, the powertrain of the Toyota Tacoma provides a lively driving experience.
The Toyota Tacoma vs The Jeep Gladiator
The Toyota Tacoma Fuel Economy vs Jeep Gladiator Fuel Economy
The Jeep Gladiator can produce some impressive output numbers, but its performance comes at a cost in the department of fuel economy. The Jeep Gladiator's gasoline engine will only get 16 miles per gallon on city streets with 23 miles per gallon, at its best. Compare that to the Toyota Tacoma's powertrains: a 2.7-liter inline-4 capable of 20/23 miles per gallon and a 3.5-liter V6 capable of 19/24 miles per gallon.
The Gladiator's diesel V6 can go a bit further, but then you're stuck paying diesel prices and without much extra benefit. The Gladiator's 3.0-liter diesel V6 has been rated for up to 260 horsepower with 442 pounds-feet of torque. That's not much better than the Tacoma's more efficient V6.
The Toyota Tacoma Safety vs Jeep Gladiator Safety
The Toyota Tacoma is one of the safest trucks on the road. In addition to rock-solid NTHSA safety test ratings, the new model also comes with a standard Toyota Safety Sense package. That means you'll enjoy everything from automatic high beams to dynamic radar cruise control as standard equipment.
The Jeep Gladiator does offer some similar safety features, but they're mostly cordoned off behind expensive upgrades.
The Toyota Tacoma Value vs Jeep Gladiator Value
The Jeep Gladiator may be loved by some for off-road driving. But the Tacoma is very well known for it's capabilities off-road and is one of the leading factors when purchased.  The Toyota Tacoma provides a significantly better buy. Its amenities and features are more robust, especially at the standard level. The Toyota Tacoma also costs significantly less and maintains its value for longer.
Experts estimate the Toyota Tacoma will only lose about a third of its value five years after purchase. The Jeep Gladiator, in comparison, will lose about 40 percent of its value. That can be a big pill to swallow for a new truck that's relatively untested, costs more, and offers less.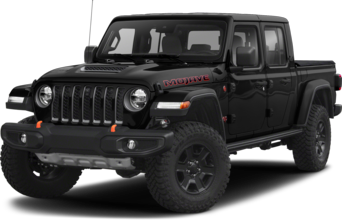 Compare the Toyota Tacoma in Portsmouth, NH
Test Drive the Toyota Tacoma Today!
We invite New Hampshire shoppers to check out the 2020 Toyota Tacoma in our new Tacoma inventory, or you may take a look at the quality pre-owned trucks we have in our used inventory at Toyota of Portsmouth. You will find us on Greenleaf Ave in Portsmouth, NH, proudly serving Exeter. See you soon!