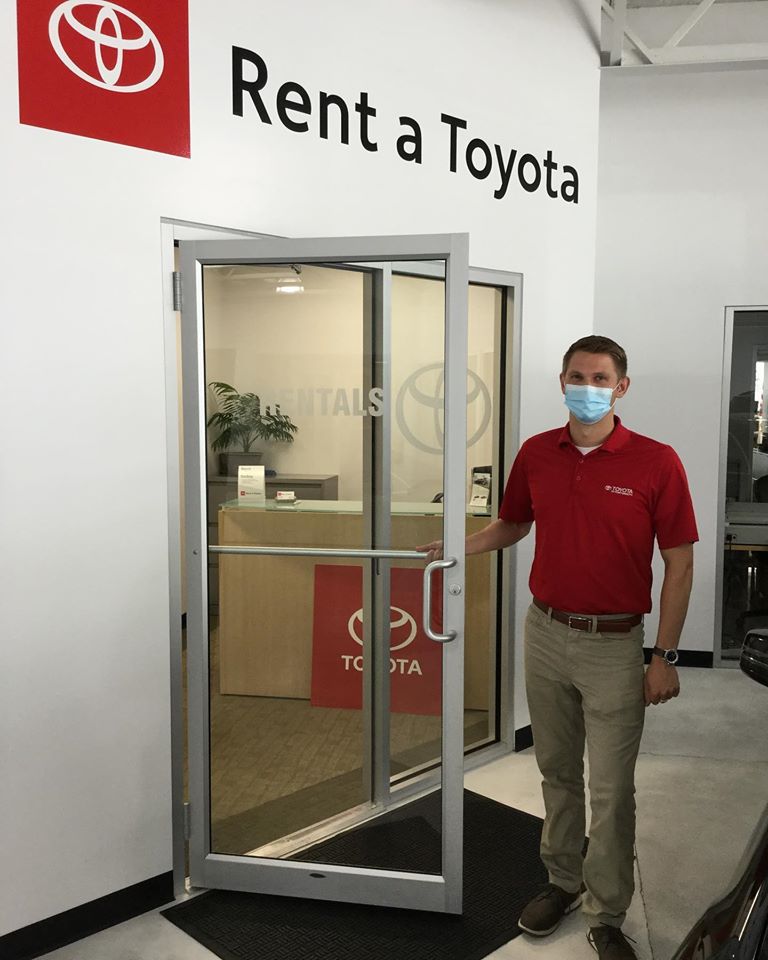 Per City of Portsmouth Ordinance
MASKS ARE REQUIRED
PORTSMOUTH - The City Council on Monday 9/14/20 voted 7-2 to approve a formal face mask ordinance with potential fines for violations.
In effect immediately, the mandate is in place until Jan. 4, 2021. The council approved it after holding a third and final reading of the proposal.
The now-enacted ordinance states that all individuals are required to wear face coverings inside public places, and outdoors when social distancing of 6 feet between people who are not members of the same household cannot be maintained.
Exempt from the ordinance are individuals with medical conditions or other conditions that may pose a health risk if a face covering is worn, children ages 6 or younger, and any person "who is actually engaged in the act of eating or drinking at a business establishment licensed by the city of Portsmouth for that purpose."
One amendment passed states that an associated civil penalty for not wearing a mask not exceed $25.
Seacoastonline.com 09-15-20
What We Are Doing To Keep You Safe
We continue to monitor and follow guidelines set by the CDC and the state of New Hampshire as there have been daily changes at times.  Your health and safety is our priority. At Toyota of Portsmouth we've always taken pride in our clean and well maintained store.  We continue a more rigorous cleaning to ensure a healthy environment in all departments and in our service lanes.
Enhanced cleaning
Cleaning and sanitizing restrooms, chairs, and tables.  Touchpoints including door handles and showroom vehicles are sanitized throughout the day.
Plexiglass shields
We gave installed shields at our service and reception counters.
Our team members
Face coverings are required for all team members and we request all customers wear one.  If you do not have one, ask us for one and we will provide one.
Creating space
Encouraging physical distancing throughout the sales and service areas.
Signs and floor decals to encourage spacing at the sales and finance areas desk and flexible seating to allow social distancing.
Hand sanitizing stations
Dispensers are available throughout the store.
In Service
Service Advisors are wearing masks.  Plexiglas barriers have been added at Service Advisor desks. Technicians are wearing gloves while servicing your vehicle and wiping down surfaces after the service is performed. If you need service but prefer not to come into our dealership, we offer pickup and delivery.
If you are in the market for a new or pre-owned vehicle but prefer to browse from the comfort of your home, you can use our Simple Buy tool on our website to complete most of the paperwork. This will decrease your time in store at time of delivery.  We can also have a sales consultant meet you at your home or office for a test drive too.
Call us at 603-431-6100 to talk with us about any concerns you have in visiting our store. Thank you for your business and trust in Toyota of Portsmouth.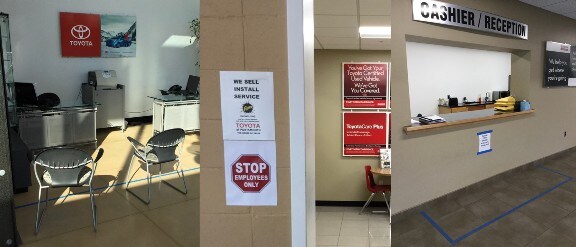 We've stepped up our game for your safety.  For those who prefer to stop in and shop you'll notice blue lines and hand sanitizers everywhere.  Some areas have also been closed to the public. These are for your safety and for the safety of our employees.  Employees now wear masks and we encourage all customers to wear masks.  If you do not have a mask, just ask a staff member and we will provide you with one.  We are following CDC guidelines to help end COVID 19.  We are here to help in service and sales.  Together we will get through this.