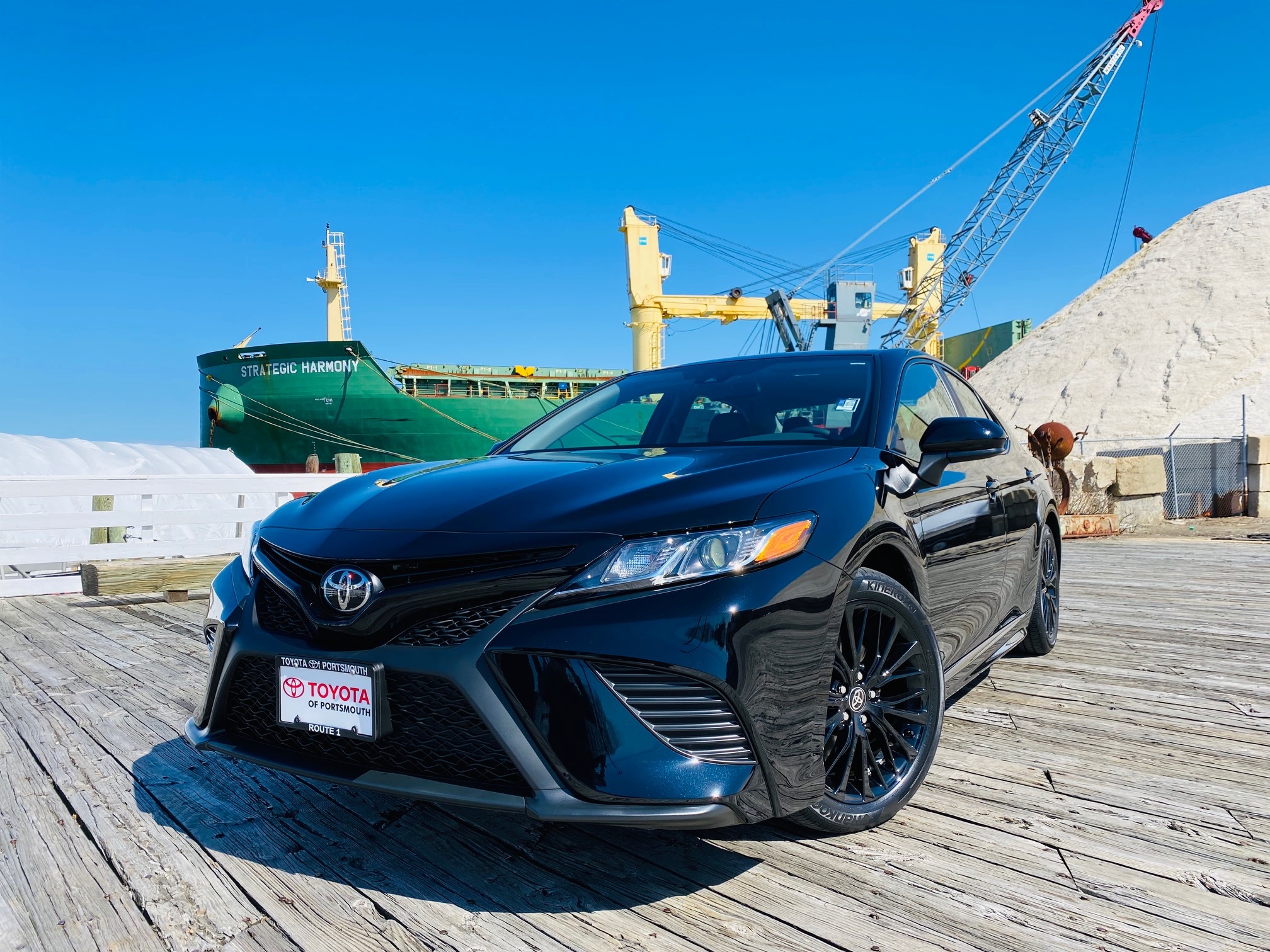 See What the Toyota Camry has to Offer at Toyota of Portsmouth
One great vehicle model that has maintained popularity year after year is the Toyota Camry. The Toyota Camry consistently achieves the highest possible ratings from many authorities in the mid-size car class. If you're in the market for a comfortable sedan in the Portsmouth, NH region, it's worth your time to give the Camry the consideration it deserves.
The Camry has long been at the forefront of efficiency advancements and has maintained its popularity largely thanks to its fuel economy. The Camry is also a spacious vehicle and has both cabin and cargo space to make the journey convenient. The vehicle is regularly praised for being easy to drive and for having comfortable seating.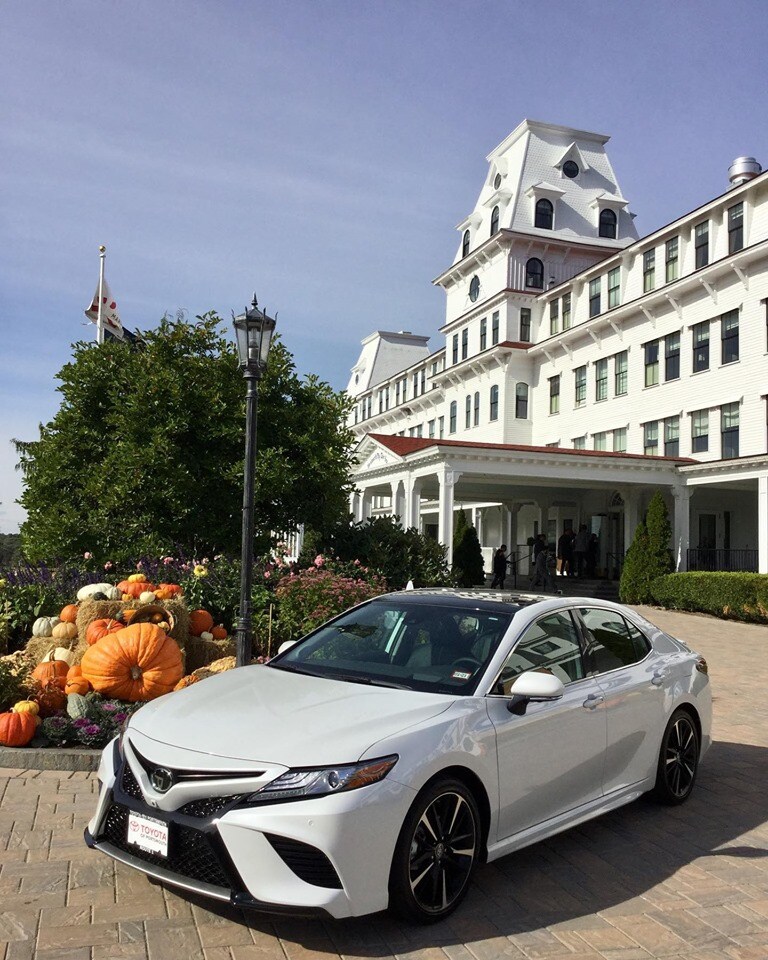 What's New?
Overall, the Toyota Camry is a reliable sedan that is offering some new features for its 2020 year model. Among the new features are Android Auto and Apple CarPlay smartphone integration that now comes standard with the model. New all-wheel-drive models are also debuting for the 2020 model. Toyota has just added a TRD model to the Toyota Camry lineup as well.
The Toyota Camry Provides Perfect Performance
The new Toyota Camry is one of our most popular vehicles on the lot due to its sporty look and performance features. These features include powerful engine options, three selectable drive modes, amazing gas mileage, and so much more. The performance features are a true staple for this vehicle because it is some of the best features you'll find in a car.
Performance
The new Toyota Camry has an impressive horsepower output with a number of distinct engine options. This allows the vehicle to display a great blend of performance and efficiency. The suspension on this car allows you to drive relaxed and confident. The Toyota Camry is the perfect combination of performance and confidence. With that being said, there isn't much to worry about when you're behind the wheel.
Transmission
This car is equipped with a remarkably agile automatic transmission. This enhances the drive of your car because it uses lightweight materials to increase stability and give you a smooth ride at highway speeds while traveling between Exeter and Hampton, NH. There are also three selectable drive modes, including ECO, NORMAL, and SPORT. These different variations give you the ultimate control. Plus, the new Toyota Camry is pretty fast compared to most cars in its class. The ECO mode adjusts the vehicle so that you get the best efficiency out of your vehicle. SPORT mode is used to sharpen your acceleration feel. This allows you to accelerate at a high speed that other cars wouldn't be able to manage. The SPORT mode is a combination of both ECO and SPORT. You get outstanding fuel economy along with great performance. With these different modes you can tailor your car to you desire.
Fuel Economy
The Toyota Camry provides a high level of efficiency and performance. Ranking as one of the most efficient vehicles in its segment in EPA emissions testing, the new Toyota Camry is a perfect ride for the fuel economy-conscious driver in Exeter, NH. This allows you drive to your destination, knowing you are getting some of the best bang for your fuel dollar available.
If you're interested in the new Toyota Camry, don't hesitate to come out to Toyota of Portsmouth. We'll get you set up with a test drive so you can get a feel for your future car.
Industry Data Team
Exterior Design
The exterior design of the Camry features LED headlights and can come with daytime running lights that enhance safety. The vehicle offers a gloss-black front grille with sport mesh insert option on some trims.
Interior Design
Toyota has worked a lot of space into the cabin of the Camry. Some of the higher trim models aren't only comfortable and large on the inside, but also luxurious as well.
Toyota Camry AWD
You don't limit your travel to warm sunny days. Neither should your Toyota Camry. When the temperature starts to drop in Exeter, NH, or you find yourself on an unexpected adventure in Hampton, NH, Toyota of Portsmouth has just the car for you: the 2020 Toyota Camry AWD. It is engineered to take you anywhere you need to go, with confidence.
What separates the Toyota Camry AWD from its more conventional counterpart? Engineering. When mother nature turns on a dime, you want a car designed to tackle anything she throws at you. The Camry AWD takes everything you love about the Camry and uses technology to make it even better on the road. With its all-wheel-drive train, it can detect slippage as a result of wet or rocky conditions and send up to 50-percent of its torque to the rear wheels, giving your Camry a sure-footed grip on the road. When you don't need the capabilities of all-wheel drive, you can cut power from the rear wheels, essentially making it a front-wheel-drive Camry. But it's nice to have the available AWD when you need it.
Under the hood, you'll find the 2.5-liter four-cylinder engine will get you from Portsmouth, NH to Dover, NH in the blink of an eye. The eight-speed automatic transmission is smooth and reliable. The Camry AWD can be found on LE, SE, XLE, XSE, and Nightshade models of the Toyota Camry. This is the same AWD system found on the adventurous Toyota RAV4, so you know it is a high-quality system.
When the weather turns for the worse, or you find yourself traveling on the road covered in gravel, sand or mud, don't get caught off guard. Be prepared for anything in the Camry AWD from Toyota of Portsmouth. Your Camry is set to tackle whatever Mother Nature has in store.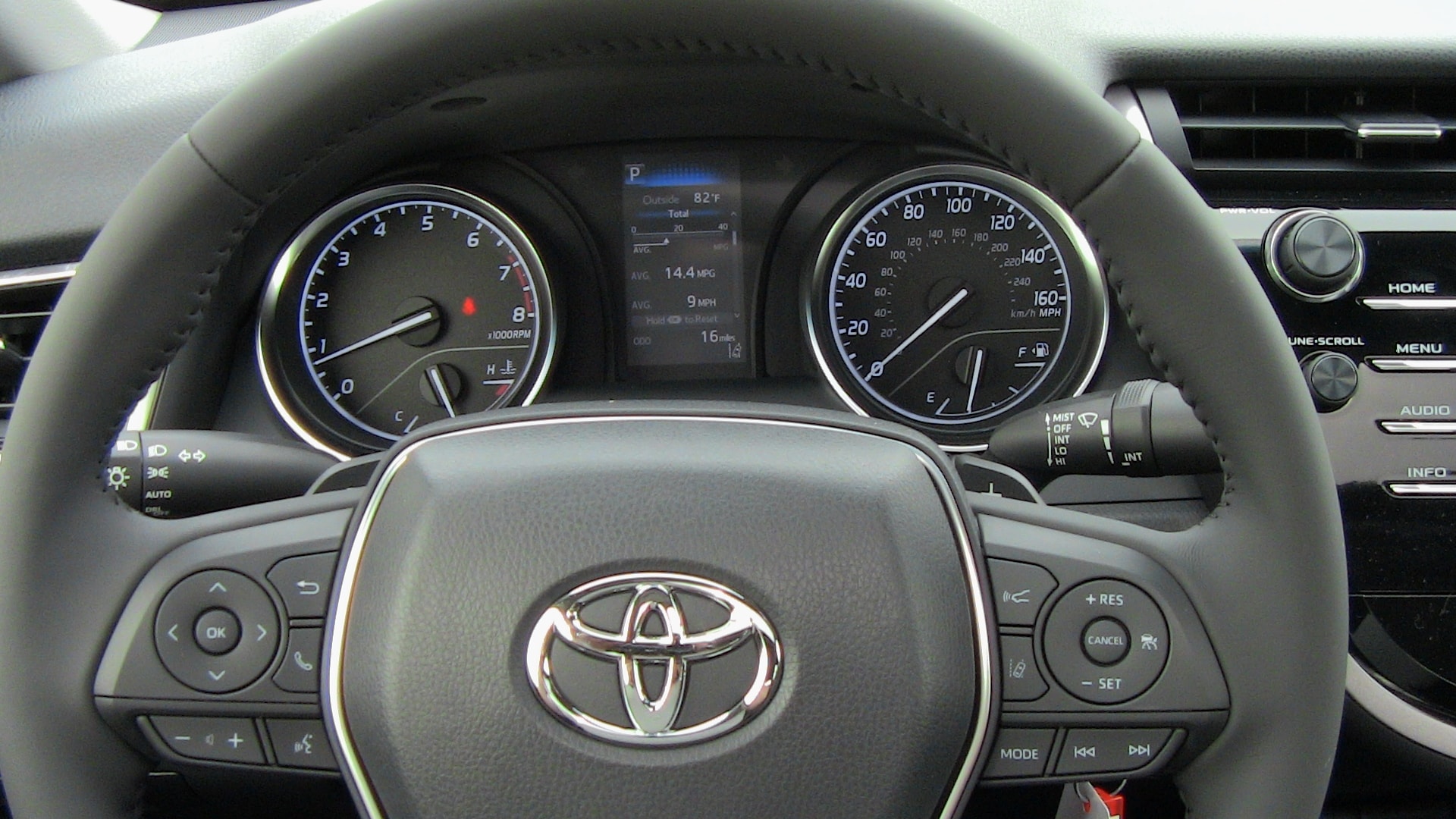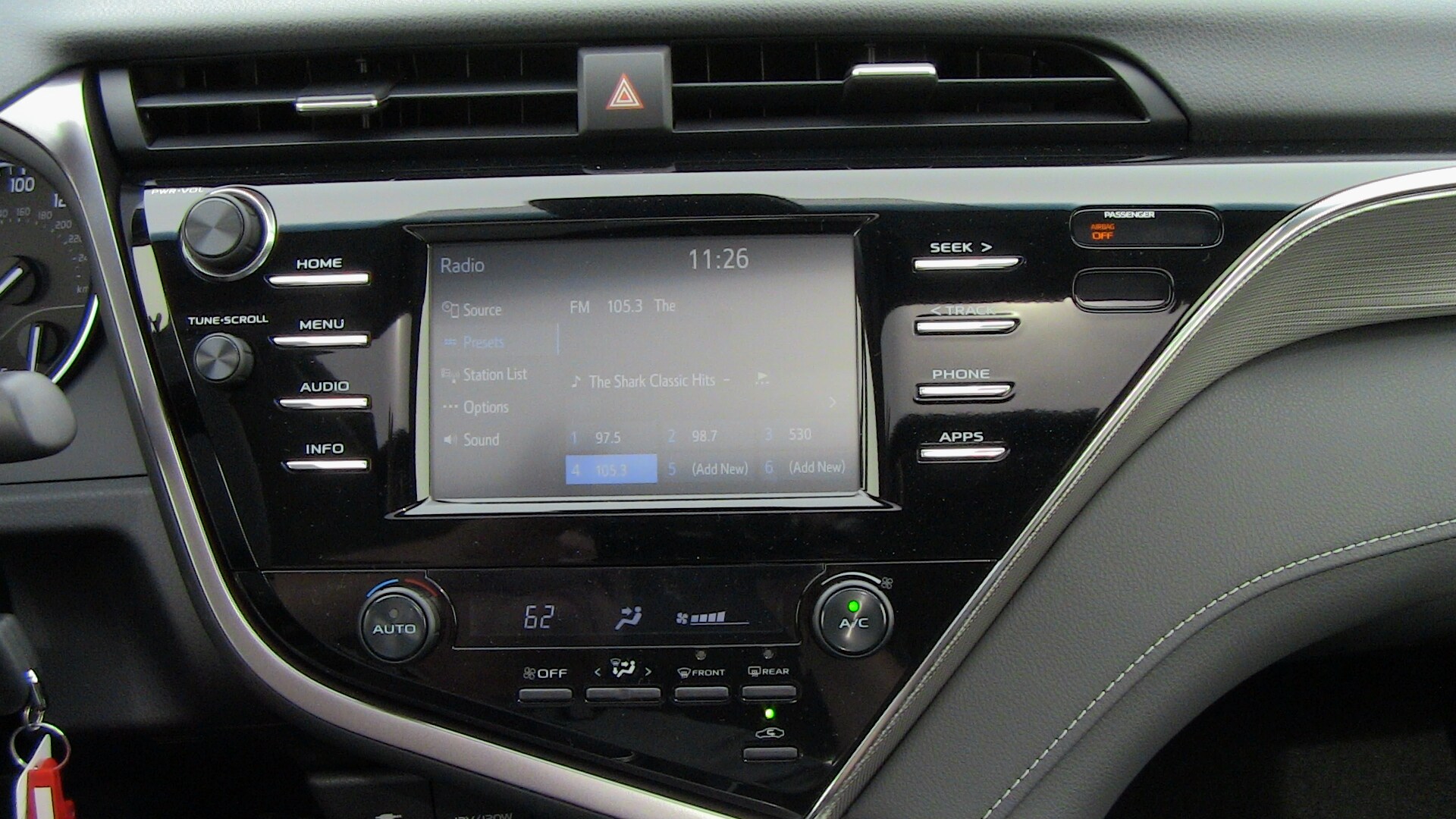 Toyota Camry XSE V6
Starting MSRP of $35,130
Toyota Camry TRD
Starting MSRP of $31,170
Toyota Camry L
Starting MSRP of $24,425
Toyota Camry LE
Starting MSRP of $24,970
Toyota Camry XLE
Starting MSRP of $29,455
Toyota Camry XLE V6
Starting MSRP of $34,580


Toyota Camry SE
Starting MSRP of $26,170
Toyota Camry SE Midnight Edition
Starting MSRP of $26,870
Toyota Camry XSE
Starting MSRP of $30,005
Toyota Camry Hybrid LE
Starting MSRP of $28,430
Toyota Camry Hybrid SE
Starting MSRP of $30,130
Toyota Camry Hybrid XLE
Starting MSRP of $32,730
Trim Levels Available on the Toyota Camry
There are six different trim levels available for the Toyota Camry. They are the L, LE, SE, XSE, XLE, and TRD. Almost all of these trim options come with a standard four-cylinder engine. This engine gets 203 horsepower. All the trim options also come with an automatic transmission.
The base trim- the L- has fewer features than the higher-level trims but still offers LED headlights, a seven-inch touchscreen in the infotainment system, a WiFi hotspot, and compatibility with both Android Auto and Apple CarPlay.
The LE offers a few upgrades providing you with a driver's seat that is power-adjustable and a back seat that offers 60/40 split-folding. The SE trim has a more sporty look and feel to it, and the XLE and XSE have more luxurious leather upholstery as well as a larger infotainment display.
Safety Features that Protect
The Toyota Camry offers a long list of safety features that our Dover, NH drivers enjoy. Among the most noteworthy safety features available are the pre-collision system, the lane departure alert, and the automatic high beams.
The National Highway Transportation Safety Administration has given the Camry a five-star safety rating and has also given the Camry five star ratings in individual categories like for rollover safety, side barrier ratings, and side crash ratings. The Insurance Institute of Highway Safety has also given the Camry high ratings in categories like side-impact testing, roof strength testing, and rear crash protection.
Test Drive a Toyota Camry at Toyota of Portsmouth
You have to test drive the Toyota Camry to get the full experience. At Toyota of Portsmouth, we have Toyota Camrys in our inventory and would be happy to answer any questions Exeter, NH drivers have about this popular vehicle from Toyota.
When you're ready, we invite you to make the short drive from Hampton, NH to our Toyota dealership. Feel free to peruse our new inventory and certified pre-owned Toyota vehicles. You can also check out our Toyota specials and the benefits of buying online through Toyota of Portsmouth.
Safety Features
Toyota Safety Sense
Toyota Safety Sense comes standard on the 2019 Camry.The car has improved safety features, such a forward-collision warning sensors, pedestrian detection and automatic emergency braking and adaptive cruise control. The 2019 Camry comes with a backup camera, lane-departure warning sensors, automatic high-beams, and blind-spot monitoring.
Come to Toyota of Portsmouth to try out theToyota Camry for yourself!